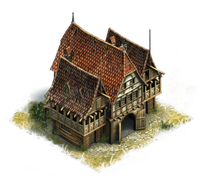 May 7th update: It is our pleasure to announce that all users will be able to maintain their progress throughout the closed and open betas and through to the live version of Anno Online! There will be no wipe or server reset of the US servers. As an added bonus, all users who participate in the closed beta will receive a special gift as a thank you from the Anno Online team.
Ubisoft® recently launched the Closed Beta phase of Anno Online, the latest installment in the award-winning PC strategy game series, for players in North America and all English speaking countries. Developed by Ubisoft Blue Byte, Anno Online is a free-to-play, browser-based world-building strategy game that challenges players to build and manage a medieval kingdom and trading empire. The Closed Beta is now available via the game's official web site http://us.anno-online.com/en.
Based on the critically acclaimed Anno 1404®, Anno Online delivers the franchise's proven and popular strategy-simulation gameplay along with the series' highly-detailed animation and graphics, for the first time in a browser-based title. Players will build and develop great medieval cities using the detailed economic system enjoyed for years by Anno fans. As they satisfy the population's needs, they will unlock new buildings and face more demanding inhabitants, eventually needing to discover and claim additional islands and connect them with trading routes.
In Anno Online, players will start on a deserted island with only two buildings (a harbour and a warehouse) and will have to make the best of their resources to build, manage and expand their territory in order to develop a commercial empire. Trade by ships remains an essential component of the game, and will offer multiplayer possibilities that will further enhance the deep economic system of Anno Online.
GUILD SYSTEM COMING MID-MAY Anno Online will introduce new persistent online gameplay possibilities and offer players the opportunity to cooperate with friends thanks to the Guild System, set to release in mid-May. This Guild System will allow players to create their own Guilds, choose a name and tag, and invite up to 25 members to join. The guild can then establish a larger strategy thanks to the guild chat channel. Guilds will have access to a new building, the Guild Hall building, which will allow members to gather together.
Players interested in joining the Closed Beta for Anno Online should visit the game's official website at http://us.anno-online.com/en.
Ad blocker interference detected!
Wikia is a free-to-use site that makes money from advertising. We have a modified experience for viewers using ad blockers

Wikia is not accessible if you've made further modifications. Remove the custom ad blocker rule(s) and the page will load as expected.